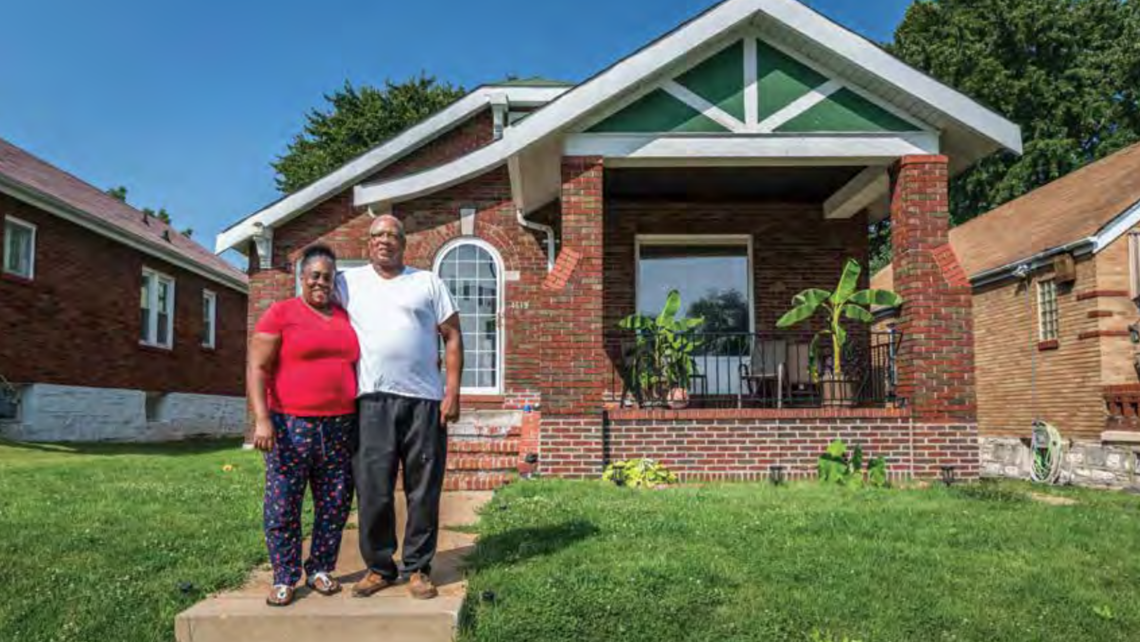 you are so full of love."
My husband Jody and I had been gone less than 20 minutes that evening. On our way back from taking bread to a woman I care for in a nearby shelter, my phone app started flashing: our fire alarm was going off at home! We arrived home minutes later; the street was blocked off. Both our house and the vacant house next door were engulfed in flames. We stood helpless; everything we owned was gone.
Four months earlier, we moved into the home we dreamed would be ours one day. A new beginning following years of setbacks. For over a decade, I was recovering from addiction that began in my early teens. It consumed my life, and I dragged Jody down, too. I grew up in a stable home. My mom was a nurse; my father worked for Bi-State. I went to St. Matthew grade school and graduated from Bishop du Bourg High School in 1982. By then, I was already an addict. Drugs ruled my life. My family suffered as I was in and out of jail.
In 2004, my mother passed away. I was in prison but allowed to attend the visitation. It would've killed her to see me like this. I knew I had to change. I vowed to God I would become the woman He intended me to be. I needed to find my way back to the real Toni, the good student my mom was once so proud of — a good mom, wife, and grandmother. And with God's help, I did. Now, standing in that inferno, I couldn't begin to imagine how we'd put our lives back together. I work full-time at Let's Start, a nonprofit organization that helped me beginning in the 1990s. They assist women released from prison to re-integrate into their communities. Through Let's Start, I had been collaborating with members of the Society of St. Vincent de Paul's St. Anselm Conference. They are always ready to step in with love and kindness to help our clients in need.
When they heard about our loss, they called right away. "Don't worry, Toni," Miss Edie said to me. "We're going to help you with whatever you need." I was overwhelmed with what they did for us, our daughter and four-year-old grandson who live with us. We were given vouchers for bedding, towels, sheets, clothing and furniture. When you lose everything, even the smallest things mean so much. They knew just what we needed even before we thought to ask. Food or a fan, or household basics. They also helped us get caught up on bills that had fallen behind.
I felt their genuine, honest concern. They are just so full of love! I just don't know what we would've done without the St. Anselm gang. What meant a lot was that they could've handled a lot over the phone or just mailed a check. But the people at St. Vincent de Paul want to meet you and get to know you. They want to pray with you. It doesn't matter where you live, and they never ask how you got in this position. They are just there to help. In June, we moved into a new, permanent home in North St. Louis. A lot of neighbors have lived there a long time. It's a nice street and feels homey and wonderful. My SVdP gang ... they are angels, angels in a time of need. I love them for who they are and what they do, and thank God they are here for anyone who needs help.